EXHIBITOR WARNING: FIRA DE BARCELONA wishes to advise all its exhibitors that THIS ORGANIZATION HAS ABSOLUTELY NO RELATIONSHIP WHATSOEVER WITH CONSTRUCT DATA PUBLISHERS AS AND CONSEQUENTLY THEIR "FAIRGUIDE". Exhibitor warnings>
Thank you! See you on 7-9 November 2022
Contribute to the reactivation, take part
With more than 20 years of history, the gastronomic event of reference has successfully closed the 2021 edition and, in the current context, has contributed more than ever to the reactivation of the restaurant and hotel industry. Gastronomic Forum Barcelona spread the values of sustainability in the year in which Barcelona is the World Capital of Sustainable Food.
At a time when companies and the industry are looking for new opportunities and paths to the recovery, Gastronomic Forum Barcelona is the platform enabling all the agents in the sector to meet again, share experiences and plan solutions for the future. It offers the best tools for business reactivation.
Find out about the Gastronomic Congress, the Sustainable Food ForumLab Barcelona 2021 and more
A full programme of more than 70 activities and 100 speakers
Barcelona's Manifesto for Sustainable Food
Discover the best tools
to face new challenges
Gastronomic Forum Barcelona was held on a face-to-face format that allows the gastronomy, catering and food sector to meet again.
A COMPLETE OVERVIEW OF THE SECTOR
Gastronomic Forum Barcelona brings together leading companies from the foodservice sector, equipment, services and distribution, as well as small producers from the primary sector and food artisans.
OPPORTUNITIES AND SOLUTIONS
A unique event where the latest trends in the sector are presented. As always, the most prestigious chefs, sommeliers and gastronomy professionals shaped a spectacular programme of activities with live cooking sessions, tastings, awards and competitions.
EXPANSION INTO NEW MARKETS
In addition, this edition reinforced the presence of companies and visitors from all over Spain and promote the participation of the closest international markets.
We renew ourselves to continue growing with you
FIGURES OF THE 2021 EDITION OF GASTRONOMIC FORUM BARCELONA
Get to know the free Gastronomic Forum Barcelona 2021 app
Gastronomic Forum Barcelona 2021 wherever and whenever you like:
Barcelona, Gastronomic Hub
IN THE HEART OF BARCELONA
IN COMPLETE SAFETY
Considered one of the world's most emblematic urban fairgrounds, Fira de Barcelona's Montjuïc venue has a privileged location in the centre of the city, with easy access and connection to the public transport network. Gastronomic Forum Barcelona will be held with maximum safety guarantees thanks to the prevention and action protocol that Fira de Barcelona has developed with the specialist risk management consultancy Aon and with the advice of the Hospital Clínic de Barcelona.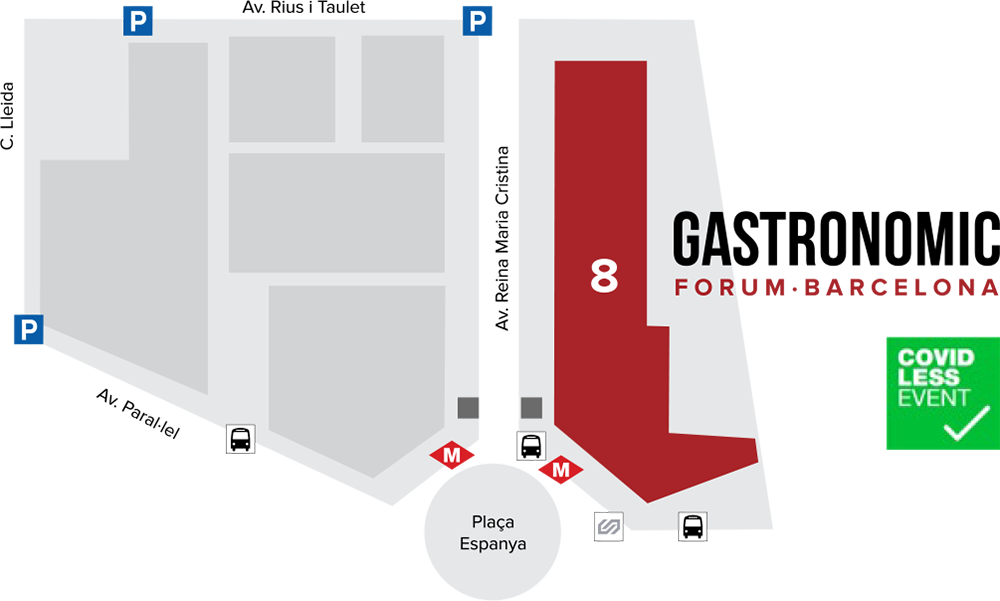 The Horeca channel and the foodservice sector are industries of vital importance to the country's economy. In recent years, the sector has been oriented in a process towards internationalization and innovation.
* Data: Hostelería de España
Hospitality business in Spain